AYK Architects is a studio for architecture, urbanism and design, founded by Andreas Y. Kyriakou in 2018 at London. Since then, he, and his associates are mainly focused on design methods and procedures for creating a new paradigm and an innovative approach in architecture industry.
The extensive international experience of the team, in world-class multi-scale projects, reinforces the practice's aim for establishing a fresh, diverse and contemporary design product for the urban web of Cypriot cities and abroad. The local and international network of collaborators embraces this idea and pushes the boundaries to this direction.  
AYK Architects is an award-winning practice and currently based in Paphos, Cyprus.
Το αρχιτεκτονικό γραφείο AYK Architects ιδρύθηκε από τον Ανδρέα Γ. Κυριάκου το 2018 στο Λονδίνο, με σκοπό να προάγει την αρχιτεκτονική, τον αστικό σχεδιασμό και το design. Έκτοτε, τόσο ο Ανδρέας όσο και οι συνεργάτες του, επικεντρώνονται σε μεθόδους και διαδικασίες σχεδιασμού για τη δημιουργία ενός νέου παραδείγματος και μιας καινοτόμου προσέγγισης στην αρχιτεκτονική βιομηχανία.
Η εκτεταμένη διεθνής εμπειρία της ομάδας, σε έργα παγκόσμιας κλάσης, ενισχύουν το στόχο του γραφείου, ο οποίος επικεντρώνεται στη δημιουργία ενός φρέσκου, πολυποίκιλου και σύγχρονου προϊόντος υψηλού αρχιτεκτονικού σχεδιασμού και αισθητικής για τον αστικό ιστό των κυπριακών πόλεων και του εξωτερικού.
Το γραφείο έχει βραβευθεί στην Κύπρο και στο εξωτερικό και έχει πλέον ως βάση την Πάφο της Κύπρου.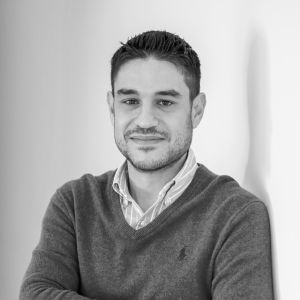 Andreas Y. Kyriakou
Founder / Principal Architect
Read More
Andreas Y. Kyriakou
Founder / Principal Architect

Dipl. NTUA, MArch AA, ETEK, TEE, RIBA, ARB
Andreas is an architect engineer, researcher and the founder of AYK Architects. He holds a Diploma and MSc degree from the National Technical University of Athens where he studied with a scholarship from the Republic of Cyprus and graduated with honors. He also holds an MArch research degree from London's internationally renowned Architectural Association, School of Architecture and the Design Research Lab from which he also studied with scholarship.
He carries an extensive international experience, working on a diverse range of projects including masterplans, commercial towers, retreats and resorts, residential and commercial projects including fine dining restaurants and high-end interiors.
Andreas gained his experience having been working for some of the most prestigious and world-known practices including Andy Martin Architecture and Foster+Partners in London, UK, in the position of Project Architect and Team Leader.
He is holder of several awards and he has published his work internationally.
Ο Ανδρέας είναι αρχιτέκτονας μηχανικός, ερευνητής και ιδρυτής των AYK Architects. Είναι κάτοχος διπλώματος και τίτλου MSc από το Εθνικό Μετσόβιο Πολυτεχνείο Αθηνών από το οποίο φοίτησε με υποτροφία και αποφοίτησε με άριστα. Είναι επίσης κάτοχος ερευνητικού μεταπτυχιακού τίτλου MArch από τη διεθνούς φήμης αρχιτεκτονική σχολή του Λονδίνου, Architectural Association, και το τμήμα Design Research Lab στο οποίο φοίτησε επίσης με υποτροφία.
Έχει εκτεταμένη διεθνή εμπειρία, δουλεύοντας σε ένα ευρύ φάσμα έργων διεθνούς εμβέλειας, συμπεριλαμβανομένων masterplans, πύργους, τουριστικά θέρετρα, οικιστικά και εμπορικά έργα όπως εστιατόρια υψηλής γαστρονομίας και με εξειδίκευση σε σχεδιασμό χώρων υψηλής αισθητικής και λεπτομέρειας.
Ο Ανδρέας απέκτησε την εμπειρία του δουλεύοντας προηγουμένως για τους Andy Martin Architecture και τους παγκοσμίου κλάσης αρχιτέκτονες Foster + Partners στην θέση του Αρχιτέκτονα Έργου και υπήρξε επικεφαλής ομάδας για τουριστικές και ξενοδοχειακές μονάδες.
Είναι κάτοχος πολλών βραβείων και έχει δημοσιεύσει το έργο του διεθνώς.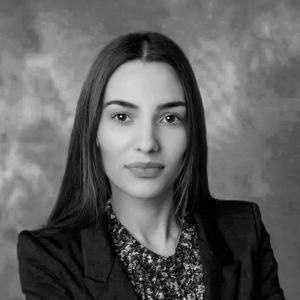 Read More
Eleni Efrem
Junior Architect

B.Arch., Dipl.Arch., ETEK
Eleni is registered architect and member of the Cyprus Scientific and Technical Chamber (ETEK). She holds a Bachelor and Diploma in Architecture from the Neapolis University of Paphos.
By completing her internship in various architectural firms in Cyprus, she was involved in a range of residential and public projects, such as design of private residences, public parks, agricultural buildings and factories, as well as, interior design with a speciality in kitchen design. She has also a technical and strong 3d visualization background.
Eleni joined the AYK Architects in April 2022.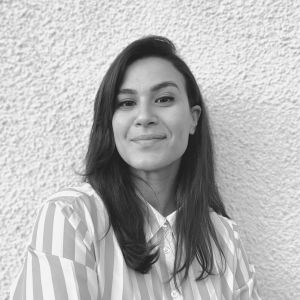 Read More
Yiota Gavriel
Architect

DipArch, BArch, ETEK
Yiota is registered architect, member of the Cyprus Scientific and Technical Chamber (ETEK) and footwear designer. After completing her studies in architecture at the University of Nicosia, she pursued her BA (Hons) Cordwainers Footwear from London College of Fashion.
She has gained experience working for a number of local architectural practices, being involved in residential, commercial and hospitality projects.
Yiota joined the AYK Architects in May 2023.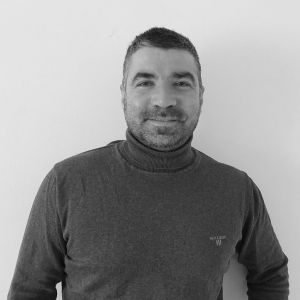 Charis Charitonides
Architectural Assistant
Read More
Charis Charitonides
Architectural Assistant

Dipl. Architect Engineer
Charis joined the AYK Architects in April 2023, carrying a strong background and deep interesting in sustainability, integration of architecture with nature, as well as the subterranean architecture.
He is currently pursuing his professional qualification for becoming registered architect in Cyprus.