AYK was founded in 2018 by Andreas Y. Kyriakou. Based in Paphos - Cyprus, we are mainly focused on design methods and procedures for creating a new paradigm and an innovative approach for the architecture of our built environment. Our results are exemplary, outspoken projects that enable our cities and landscapes to develop towards a better future.
The team of AYK has an extensive experience in world-class multi-scale projects. This experience reinforces the aim of the studio for establishing fresh, diverse and innovative solutions to contemporary architecture and urban issues. Our highly collaborative, research-based design method involves clients, stakeholders, and experts from a wide range of fields from early on in the creative process. The local and international network of our collaborators embraces this creative direction, while it pushes the boundaries for designing innovative, unexpected and joyful buildings such as the New Cultural Centre of Mandria (NCCM), a two-detached, pentagonal-shaped volumes that create a space for arts, performances and events, or the Dhanurasana, a meditation space inspired by a bow-pose yogic posture in Portugal.
The products of AYK's unique approach to design vary, ranging from residential buildings of all types and sizes, to urban plans, parks, public squares, publications and exhibitions.
Moreover, AYK works collaboratively with other international architectural studios from Europe and Russia, for projects that are designed or executed in Cyprus. As part of this collaboration, AYK provides services as Local Architect, Architects of Record (AoR) and Project Manager for such projects.
AYK is an award-winning studio. In 2017, AYK won the first prize with the project "meta[β]ole", while it supervised the fabrication process for creating a prototype with digital / parametric design procedures. In 2021, BUILD magazine announced AYK as "Architecture Practice of the Year 2021 - Mediterranean Best Eco-Friendly Luxury Resort Design" for the project "Yeroskipou Tourist Residential Resort".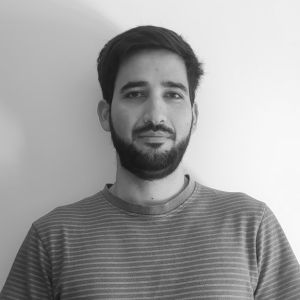 Georgios Ioannou
Architect
Read More
Georgios Ioannou
Architect

BA(Hons), Master in Architecture and Sustainability, ETEK
Georgios is registered architect, member of the Cyprus Scientific and Technical Chamber (ETEK), having worked in several offices both in Cyprus and abroad.
His work focuses on sustainability and the implementation of the human condition into the design process and execution. He has graduated from the University of Brighton (BA Hons Architecture) and K.U. Leuven (Master in Architecture and Sustainability). Since then, he has acquired an extensive experience being involved in residential, commercial, cultural projects and competitions.
Georgios joined the AYK Architects in November 2023.