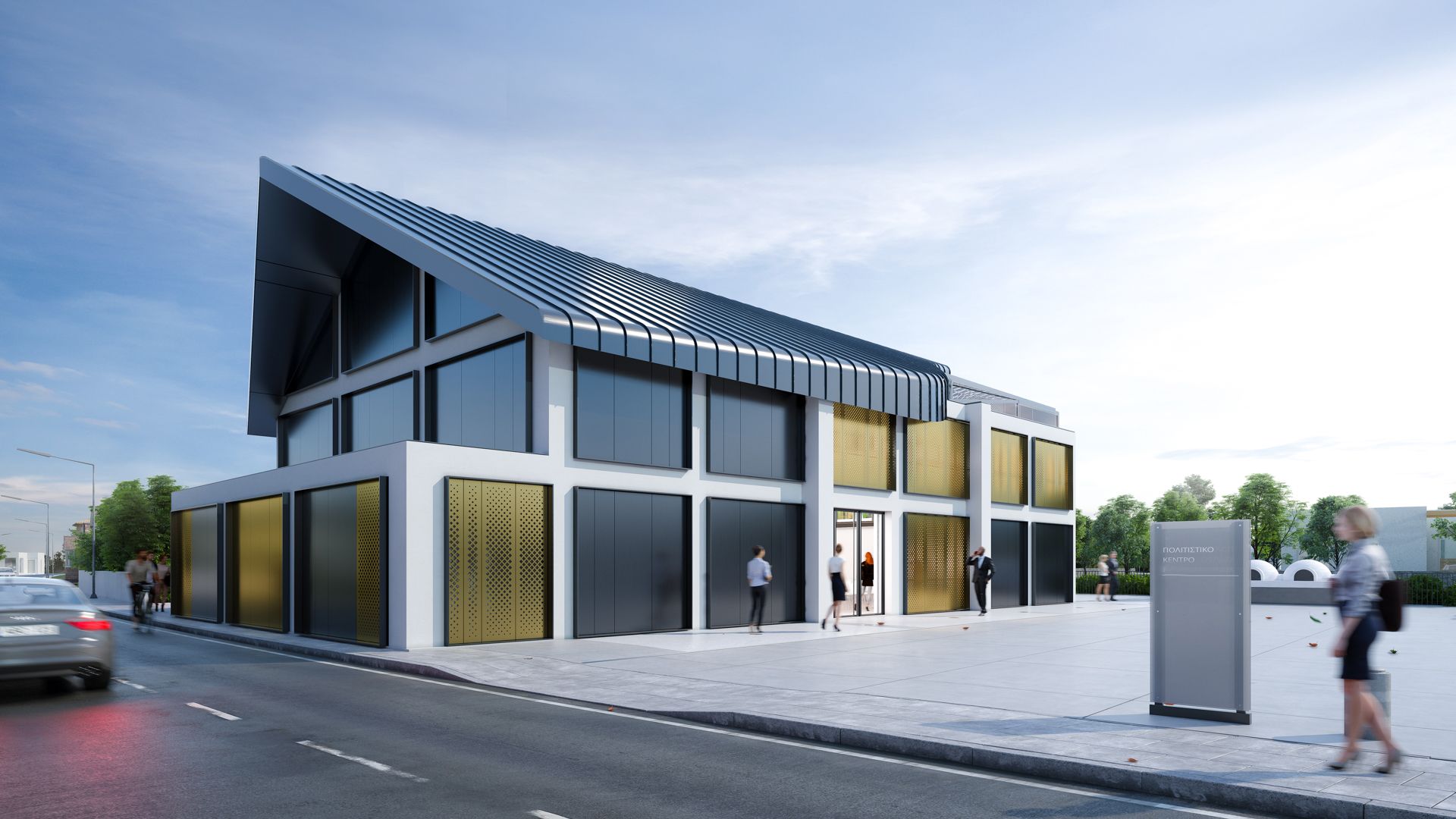 AYK to design the restoration of an existing Cultural Center of a community in Paphos, CY.
AYK Architects has been selected to create a contemporary proposal for an existing and abandoned Cultural Center of a community in Paphos district, Cyprus. The building has been abandoned due to old, dangerous and poor-maintained structural condition, setting it risky for people to use it and leaving the community without space for events, performances and other cultural happenings.
The new design is looking not only to enhance the structure, but also to create a fresh, contemporary and outstanding image for the building, highlighting its role and establishing a landmark for the greater area. Inspired by the vivid yellow color of the sun of Cyprus and the bright nights and with the willingness to reflect the transitioning climate of the area, the approach keeps the old concrete frame and introduces a new metal cladding of grey and bronze shades seeking to add calm but luxurious touches to the near surrounding environment.  
The design aims to bring a whole new experience for the performer and the visitor. Inside at the ground floor, a large open space area is organized to host events, theaters and performances, creating a multifunctional space and a spacious stage with high-end design. At the back third end and over the BOH areas, a mezzanine is added, aiming to host conferences and private meetings. An internal green oasis with an indigenously planted linear planter forms a green focus, creating a relaxed atmosphere within that space.
Outside, the diamond-shaped perforation on the bronze-colored metal cladding, in front of the external glazed walls, gives a special elegance to the building envelope, while it diffuses the sunlight to the interior in a controlled way, and enhances the internal experience of the space during the day.
The pitched roof – a double curved geometry cladded in dark grey metal insulated sheets – is completely redesigned seeking to create a direct connection with the existing one which has been scheduled to be demolished, adding dynamism and fluidity to the overall contemporary approach. At the back end, the complex skylight over the mezzanine space aims to create a direct connection with the Cyprus sky during the day and night, reflecting the internal happenings to the outside and transforming the building into a live organization for the surrounding environment.